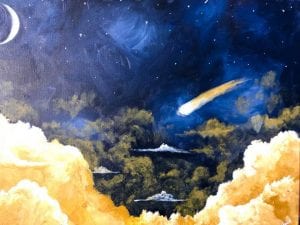 Canvas & Coffee
"Diamond Sky" is an original painting that we are going to paint on Friday, October 10, 2018 at 6:30 pm at The Forte School, 6825 Trouble Creek Road, New Port Richey FL 34654.  For more information either email info@theforteschool.org or call 727-859-7081.
Canvas & Coffee is a "painting party" class. All you have to do is show up prepared to have a good time! At the end of the night you'll have a new appreciation for painting and a one-of-a-kind masterpiece to take home and enjoy.
We supply you with a 16″x 20″ stretched canvas, acrylic paints, artist brushes, step-by-step instruction, and our premium coffee bar.  Please feel free to bring a snack or dessert to enjoy with your coffee.
Canvas & Coffee is for everyone 8 years of age or older. Children under 12 years of age must be accompanied by a paying adult.
cost
$30 – advanced purchase through our website
$35 – at the door
Art Classes for Kids
This eight-week course is designed to introduce your child to various art mediums such as pencil and charcoal sketching, acrylic painting on canvas, watercolors and paper mache.
Classes will be Mondays at 7:30 pm, from September 10 through October 29, 2018 uninterrupted. Click on the Registration tab to register your child for this unique exploration into the visual arts.
cost
$125 – full eight-week course
$15 – materials fee